The John Knox Center has been around as a Presbyterian Church Camp since the early 1960's. In 1994, The River Ridge Environmental Education Program was added and each program coexists on 143 beautiful acres along the Tennessee River on Watts Bar Lake. Our facilities can sleep up to 144 people in cabins and the dorm at one time. We offer camping out on our Second Pennisula for folks who might prefer pitching a tent. A-Unit and B-Unit each have 5 cabins with 8 beds in each and utilize a Lodge with bathrooms (showers included) in each designated area. Our C-cabins and Dorm are the most recently renovated part of our facilities. There are 5 cabins in C-Unit, two of which have bathrooms in them, while the other 3 cabins use the communal bathrooms inside the dorm. The dorm can have 24 people in it at one time and each room has its own bathroom.
We can accommodate many different sized groups and can cater to your needs. Scroll down and check out photos of our amazing facility!
Abel Lodge serves as an indoor meeting room for groups of various sizes.
Large meeting room in Abel Lodge. This space has outlets for computers, projectors, and other electronics.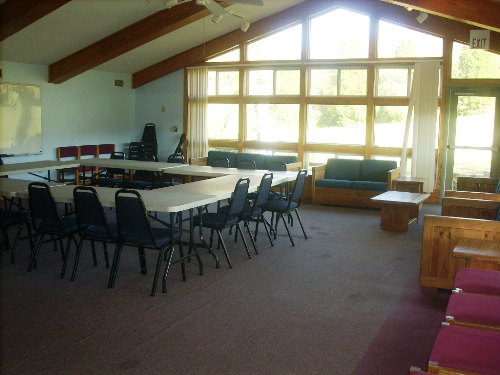 Smaller meeting room in Abel Lodge
Kitchen in Abel lodge to help with luncheons, showers, and snacks. Abel Lodge also includes two single restrooms.
The River Ridge EEP and John Knox Center Office
The pavilion looks out over Watts Bar Lake, and is an ideal space for large group activities including games, class, lectures, or movies!
The Pavilion (the hub of all activities)
Road to Vesper Hill
(Pre-historic Mississippian Ceremonial Mound)
Volleyball Court at the Waterfront
Swimming area at Waterfront
The Point (area in front of the Dining Hall)
B-Unit Lodge and Bathhouse
C-Unit Cabin 5 (Renovated w/Bathrooms Inside)
C-Unit Cabin 3 (no bathrooms inside)
Inside Cabin C-3
East end of the Dorm (Has 24 beds)
South L wing of the Dorm
Common Room in Dorm
Bathrooms around Common Room
Bathrooms around Common Room
Beds in Dorm Room (each room has 4 beds)
Bathroom in Dorm Room (each room has one)